Welcome to
Down Under Tank Testing of Florida, Inc.
We are Providers of precision testing and inspection of Aboveground and Underground storage tanks, piping, and leak detection devices both mechanical and electronic.
Access Your Test Results Like Never Before
The Customer Advantage Dashboard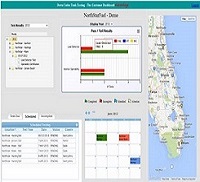 At Down Under Tank Testing, technology and innovation are key elements to excellent customer service. We develop platforms that allow customers to access complete historical site data in an easy to use format. Contact us for a demo of our products and services.
Down Under Tank Testing is committed to providing incredible customer service. We go out of our way to make the customer feel appreciated, understood and cared for. The end result of this is simple but powerful -- a strong connection to the customer.

We currently have job openings for Technician positions.

Come join a company with a great reputation. We are known for quality, integrity and customer service.

If you are an energetic, hard working individual who wants to be part of a growing team, see the Careers section of our web site and apply.

click here